Command A Panda – EP Launch Photos by: Karen Lowe Review by: Paulee 'Paulzo' Leahy
---
---
Did 'CAP' break the sky? Was the deluge that blinded us on our journey into Amplifier's on Friday the 13th November 2020 for Command A Panda's EP launch an omen of the almighty power that was to be unleashed that evening? Seemingly the line-up that Adam Moore and Matt Hort had assembled for this momentous occasion, rivalled, and clearly upset the very gods themselves!
Command A Panda, Amberdown, Blindspot and Mirrors At The Arcade joined forces for one night to help launch CAP's self-titled EP at Perth's Amplifier Bar – and let me tell you, it was indeed an incredible line-up.
From the moment MATA (As they're known… or is it just because Mirrors At The Arcade has too many words for the average Aussie, hence MATA), launched into 'Dancing With The Enemy' with all its swaggering punky grungy angst, the tone was set for an epic night. Ed Leis (vocals/guitar), Keir Brown (bass/vocals) and Billy O'Connor (drums) preceded to showcase their set of tight, punchy and at times darkly themed pop punk.
These lads know how to put on a show, and Ed encouraged the gradually building crowd to move forward so he could see their faces, all the while spruiking the merch available (that both he and Keir happened to be wearing) from the table at the back. MATA's set flowed from punk to rock to grunge and even reggae, and on closing offered the punters a choice of heavy then slow, or vice versa… clearly slow, then heavy was the call!

Blindspot are the true essence of what Perth punk is. These lads have spent the last few years absolutely crushing it both here and over east, and in true punk style, their bassist Az Scene (bass/vocals) only just managed to make it on stage owing to the fact he'd just played another gig! But Ben Swain (vocals/guitar), Mark Gregson (guitar) and Steve Sixxo (drums) were giving him no quarter whatsoever as they powered into their set, leaving no doubt as to why they have supported some of the biggest punk touring acts from around the world!
Highlights as always 'The Right Swipe' and 'All Fall Down' got the swelling crowd fully up and jumping. Their tightness and familiarity as band is such an awesome aspect of a Blindspot show. Their delivery is so effortless yet chock full of cheeky fun and punk rock energy. Throw in a Beastie Boys cover and a juiced up version of the controversial 'Ska Wars' (Star Trek is the tits lads) which had everyone singing along, and it'd be fair to say the lads delivered an absolute stonker of a set in true Blindspot fashion! Keep an ear to the ground to as they have a new album in the works!
To say I'm a total fanboy of the third band really is an understatement, but when Amberdown hit the stage next, with all the fury of Dan's Victory Kraken, it was something akin to the kraken unleashed upon poor Jack Sparrow!
The huge wall of sound that they create live is truly something to behold. Daniel Connell (vocal and guitar) Jason Glatzer (guitar and vox) Jeremy Young (bass and vox) and Marc Lennon (drums) are no strangers to the Amplifier stage and they certainly know how to bring it with crushing guitars, bass and tight as fuck drumming, and the enigmatic and all round hunk of a man Dan spitting out sometimes angry, often emotive vocals, all the while ably supported with harmonies from Jez and Jason .
These lads to are in the midst of recording an album, and if the taste of that that they gave us with at least 3 new tracks they played, it is going to be a freakin' huge album. With Jason shredding out killer riffs and Jez & Mark holding down their tight as fuck backline, there is no doubt how truly awesome this band is. From their opening track off their 4 Years LP, 'Say You Will' to their final song 'Hole In The Flaw' Amberdown showed why they are indeed one of Perth's premier heavy rock bands, and if you haven't seen them, then you need to seriously take a good hard look at yourself and get out there!
But without a doubt, there was truly only one reason we braved the ridiculously unseasonable November weather – Command A Panda.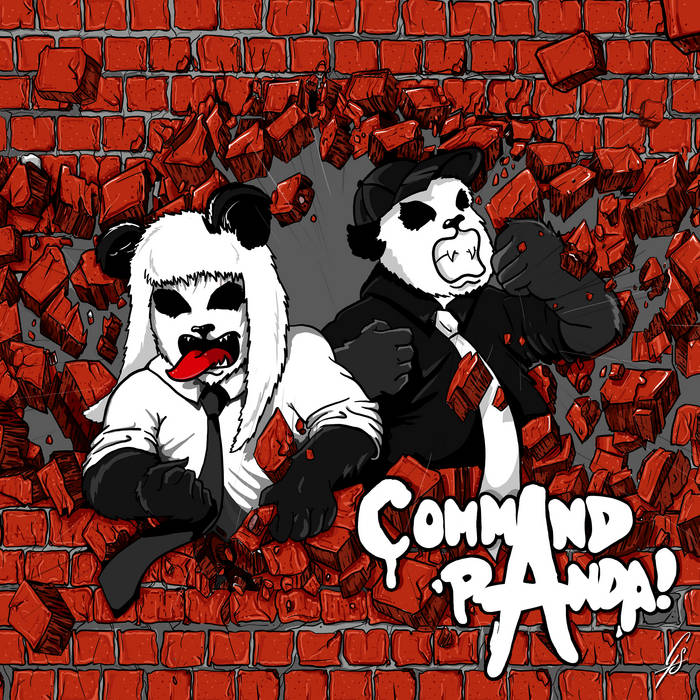 Matt and Adam, if you haven't seen or met them before are 2 of the most beautiful people you will ever meet. A testament to that was the amount of fellow Perth muso's, reviewers and industry people that were in attendance for this gig. Both the guy's spent their pre-show greeting, chatting and hugging punters and moshing out to the 3 support bands they asked to join them for this launch – and my oh my, launch they did!
The opening track 'Medicine' from their self-titled EP was a perfect opener as the boys unleashed their set. Matt cranks out an absolute belter of a catchy riff on this track, beautifully accented by Adam's pounding, clean rhythms – and this is the essence of what makes CAP so stonkingly damn good! Catchy riffs, pounding, clean rhythms all delivered with an incredible swaggering coolness that these guys just literally ooze in bucket loads. 'One and Only Love' and 'Thanks For Comin' are cracker tunes that had the crowd fully going off and totally pumping, with panda heads exchanging and laughs and cheers all round and even a TLC cover of "No Scrubs" had this reviewer donning said head and getting down Panda style!
But it was their massive single 'Bring It' that had everyone in the room up and dancing, Panda heads a-bobbing as Matt & Adz gleefully, effortlessly smashed it out as only these Panda's know how, sounding bigger than a 5 piece stadium band, the lads absolutely and indeed did bring it!
To bring it home they played the irrepressible 'No-One's Fucking Steering' which is definitely one the biggest bangers in their arsenal of awesome bluesy, grungy rock tunes, and a clip to boot (go check it out). Command A Panda have no fear, and as always on this night, brought it and brought it hard.
If you missed out, well fortunately for you there's always another CAP show just around the corner, but a line-up such as this was truly one in a million, especially having the ever awesome Scott Crighton mixing the sound which was the ultimate cherry on top. So, for atonement, hop onto their Bandcamp, buy the EP, buy some merch and more importantly get to a Command A Panda gig, don a Panda head and join the pandemonium that is COMMAND A PANDA!